Board of Directors

Mr. Michael N. Shirima
Chairman
Mr.Michael Shirima is an Aircraft Performance Engineer by Profession. He worked for 11 Years at the now defunct East African Airways (EAA). In 1977 he joined the task force established to set up the National Airline Air Tanzania and was appointed Operations Director. Founded Precision Air in 1996. Has extensive Boardroom experience and currently Precision Air Board Chairman.
---
Ms. Elizabeth Minde
Ms. Minde is a legal practitioner and advocate of the High Court of Tanzania. She is also an accomplished academician having been a lecturer at the University of Canada and an external examiner at the Moshi University College. She is currently the Managing Director of Kilimanjaro Women Information Exchange consultancy organization.
She is a member of the Precision Air Board.
---
Mr. Vincent M. Shirima
Vincent is an economist by profession, having studied at the University of Western Ontario ,Canada.Has been a member of the Precision Air Services Audit Committee of the Board for several years, currently the Managing Director of Rombo Millers as well as Managing Director of Water drilling solutions Arusha.
---
Mr. Ron Schipper
Mr.Ron has extensive experience in the aviation industry, having joined KLM in 1969 as a cabin attendant. Currently a member of the KLM Board of Directors and the Kenya Airways Board. Has worked over the years in various capacities in various countries, including Antillean Airlines- Curacao as Managing Director.
He is a member of the Precision Air Board.
---
Ms. Sauda Rajab
Sauda is a graduate of the University of Nairobi. She has a wealth of experience in Aviation having joined KQ in 1989 as a management trainee and has risen up the ranks holding various positions in the airline, including General Manager Kenya, Regional General Manager - Europe,Americas and Asia.Prior to joining Precision she was the Kenya Airways General Manager Cargo.
She sits on the Precision Air Board as Precision Air's Managing Director and CEO.
---
Mbuvi Ngunze
Mbuvi is a Chartered Accountant (England and Wales) and is also a graduate of the Harvard Business School's Management Development Program (PMD75).Mbuvi is currently the Group Managing Director & Chief Executive Officer of Kenya Airways. He has extensive Board room experience having served on the Boards of Bamburi Cement (from 1999), Hima Cement, Mbeya Cement, and serving as Secretary to the East African Cement Producers Association. He is currently the Chair of the Committee of African Airlines Association (AFRAA) and The Chair of the Kenya Association of Airline Operators. He sits on the the Board of JamboJet Limited, Lewa Wildlife Conservancy, and is a member of the Board of Governors of IATA.
---
Avelyne Msaki
Avelyne has over fourteen (14) years' experience in auditing, capacity building programmes and advisory services. He holds a Bachelor of Commerce in Accounting from the University of Dar es Salaam. He is a Certified Public Accountant in Public Practice (CPA – PP), a registered member of the National Board of Accountants and Auditors of Tanzania - (NBAA) and a graduate from the University of Dar es salaam [Bachelor of Commerce in Accounting]. Avelyne has immense experience in both internal and external audit having worked for four (4) years at Claritas International and ten (10) years with PricewaterhouseCoopers. He is currently a Managing Partner at Claritas International, a professional services firm providing Audit, Capacity building programmes, Tax and Advisory services in Tanzania.
---
Migire Migire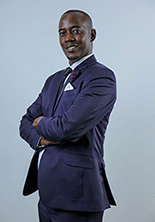 Joined PW in October, 2014 as a Contract and Compliance Officer and rose to serve as the Chief Legal Counsel and Company Secretary from September, 2016. He is a graduate with a Bachelor of Laws [LL.B] from St. Augustine University of Tanzania and holds a Postgraduate Diploma in Legal Practice from the Law School of Tanzania. Mr. Migire was admitted as an Advocate of the High Court of Tanzania in June, 2014 and practices before the High Court and Courts Subordinate thereto other than primary Courts. He is also a practicing member of the Tanganyika law Society and the East Africa Law Society. He has over 5 year work experience dealing with general legal matters including litigation, corporate affairs, commercial, and compliance issues.